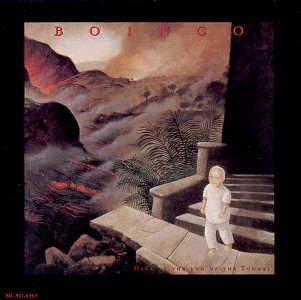 A brief refresher for those that are not familiar with Oingo Boingo:
Wether you know it or not, Danny Elfman and his music has been a big part of every Red Blooded American's life in one way or another over the last 30 years. From composing The Simpsons theme, almost every one of Tim Burtons' films and countless other classic movies to having his band Oingo Boingo appear in almost every classic 80's comedy.
He got his start as the band leader in his brother's theater troupe The Mystic Knights of Oingo Boingo", which he later broke off from to focus on the band Oingo Boingo full time. From there, Oingo Boingo blew up in the early eighties and became one of the bigger acts in the New Wave genre. They did pretty well for themselves and even made it into some of the bigger movies of the day. But as the eighties wound down, the public's(and Elfman's) taste in music started to change and New Wave wasn't so new anymore and music started to change for the better. Thus, they produced this little gem of a record.
Dark Side of the Tunnel was a major departure from the band's earlier records. Although there are little tastes of their earlier New Wave/Ska stylings, most of the music was guitar driven rock and roll. And being 1990, it was the right move to make. Some of their best material is on this record, in my opinion at the least. Out of Control, When the Lights go out, Flesh 'N Blood, and Try to Believe are a couple of my favorites from the band. There isn't as much keyboard on this album and most of the are a lot slower in comparison to their earlier stuff. This definitely gives them a more mature sound than they had before.
Unfortuneatly, it was also the last decent record that they put. Elfman wanted to focus more on his composing career and spent musch less time with the band over the years before releasing Boingo, which probably would have been better off not being released(Insanity being the only good song on the record).

All in all, I'm probably in the the minority with my opinion on this album but fuck it, its a great album. Give it a listen.